Chintz cloth produced for the Japanese market, sarasa cloth was used to make obi (waistband) and kosode (robe) linings during the Edo period (1615–1868) in Japan. The name may have derived from the Japanese word for chintz, or the Gujarati saras, meaning "beautiful." The cloth is believed to have been introduced to Japan as a trade textile by the Dutch during the Muromachi period (1336–1573). In 1606, a trading post was set up in Petapoli, southwest of Machilipatnam, following which sarasa cloth began to be exported to Thailand, Indonesia and Japan.
Sarasa cotton is dyed with five colours — dark red, indigo, green, yellow and brown — derived from natural and mineral sources. The processes used to dye the cloth include mordant painting and wax resist-dyeing, as well as hand- and block-printing using the kalamkari technique.
Sarasas feature motifs and designs associated with Japanese culture, such as the lotus and the wheel, which are emblematic of Japanese Buddhist iconography. Chrysanthemums, pomegranates, squirrels, magpies and tortoise-shells were also depicted, along with floral arabesques with patterns in gold leaf.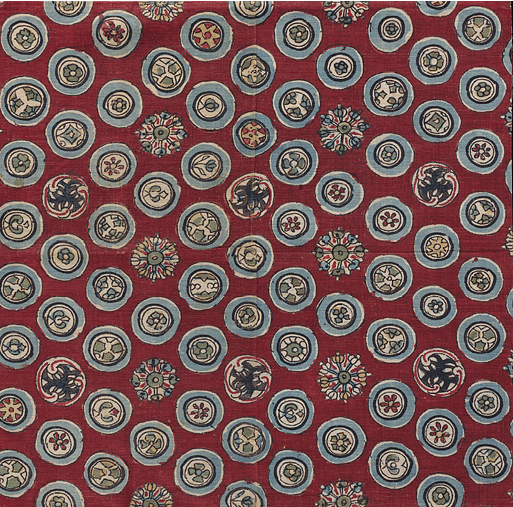 One of the earliest uses of Indian sarasa in Japan was in Japanese warrior jackets from the Edo period, known as hoari. These garments featured designs such as repetitive roundels and sawtooth hem-line patterns, which are found in sarongs from Indonesia. It was also tailored to create shifuku (pouches for tea caddies), furoshiki (square cloth to wrap implements), tobacco pouches, display mats and scroll-box covers. There is also some evidence of the sarasa being used to make undergarments, sashes and handkerchiefs. It was largely considered a precious cloth, and small fragments of sarasa were mounted in sample books known as meibutsugire (famed fabrics).
The Japanese believed that the Indian sarasa was imported from Siam (now Thailand), and therefore, early imitations, produced in Yamashiro Province, were known as shamuro zome, meaning "Siam dyeing." However, the dyes used in these imitations would fade in the first wash. By the late Edo period in 1820, the Japanese import of sarasa ceased and imitations known as Japanese sarasa began to be used in Kyoto, Sakai and Nabeshima. These textiles were dyed using paper stencils, small woodblocks and dyes and hence, would not lose colour while washing. Also referred to as Edo sarasa, their production technique involved applying the traditional Japanese katazome (stencil dyeing) method to create complex patterns, gradations and undertones on silk using multiple colours.
Today, very few original examples of sarasas are left and are held in the collections of the Calico Museum of Textiles, Gujarat; the Tokyo National Museum; Rijksmuseum, Amsterdam; The Metropolitan Museum of Art, New York City; and the Los Angeles County Museum of Art.
This excerpt is taken from MAP Academy's 'Encyclopedia of Art' with permission.
The MAP Academy is a non-profit, online platform — consisting of an Encyclopedia, Courses and a Blog — which encourages knowledge building and engagement with the visual arts of the region.

This article was originally published on The Print


Blogs you might also like:
The Art of Intricate Thread Work - Embroideries of India
Ajrakh-Aa-Tales
Kanchipuram Weaving